Venue
Sub-links for this page
655 Western Port Highway (Dandenong-Hastings Rd), Skye, Victoria, 3977
The Victorian State Dog Centre at KCC Park consists of 74 acres owned by DOGS Victoria.
It includes fenced off-lead areas, a dam for doggy swimming, a large indoor pavillion and outdoor areas that are used for on-lead exercise, training, breed conformation shows and dog sport competitions.
There are also barbecues and picnic tables available.
Large Off-Leash Fenced Area Rules
If the ground is obviously being set up or used for either lure coursing or herding, the entire area is out of bounds for all other usage

If a member is already using the area at any other times, please wait until they leave before entering with your own dogs

Please read the conditions of use displayed near the entrances

Please pick up after your dogs, using bags and bins provided

Please be considerate and give others a turn if they are waiting. We suggest 15 minutes is enough, you may be able to come back later after taking a pleasant lead walk around the rest of the Park and resume your free running.
Small Off-Leash Fenced Area Rules
In addition to the above the smaller fully fenced space is intended for use by toy dogs. These breeds take precedence. However, if the space is not being used, any member may take their dogs in, providing they leave immediately if a member arrives to run small dogs.
KCC Park Layout for Agility Nationals 2018

Please note:
Details on the map are subject to change without notice

There is parking around Area 1 for cars, however not for car and trailer. There is plenty of space in the Parking areas for trailers.

The exact layout of rings in each area is currently being determined. However rings will be grouped together for ease of heights, 1-3, 4-5, 6-7.

The white dotted line indicates the precincts of the trial.

The equipment in the practice area may or may not represent equipment in the competition rings.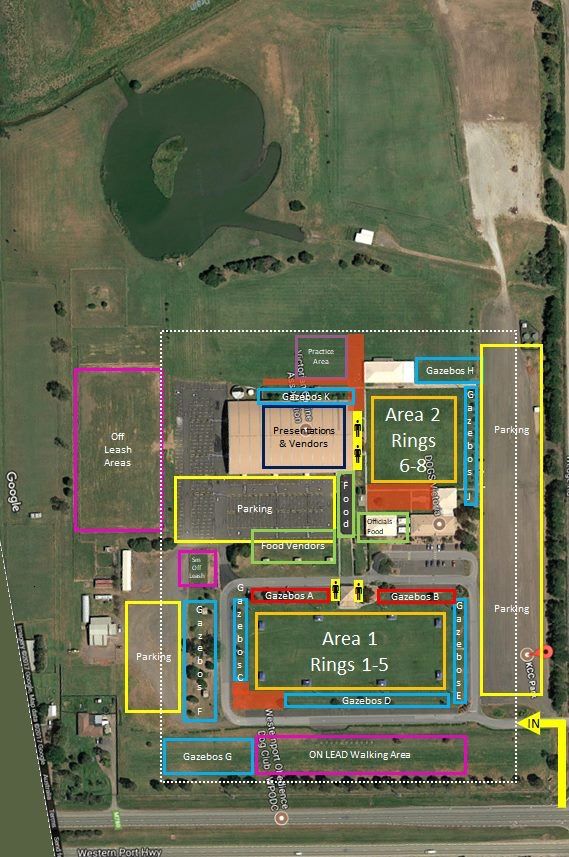 Contact Details
Click on the following links for enquires about:
For all other enquries please use the Contact Form.