Registration & Gazebos
REGISTRATION
Registration will be open on Tuesday 10th April between 12 noon and 5pm in the Boxhall Pavillion (Area 4), KCC Park. Vendors and presentations will also be located in this building. Everyone competing is expected to register at this time.
The Practice Ring will be available on Registration Day.
If you are unable to register in person due to work or travel commitments you can have someone else register on your behalf. You will need to give them a signed letter which they can present at registration, with the following information:
Your Name (owner of the dog)

Dogs Name

Name of Person Authorised to pick up

Height Cards – original, Photocopy or a Photo is acceptable

Signed by Owner of the Dog
REGISTRATION PROCESS
(Link to PDF Registration Process)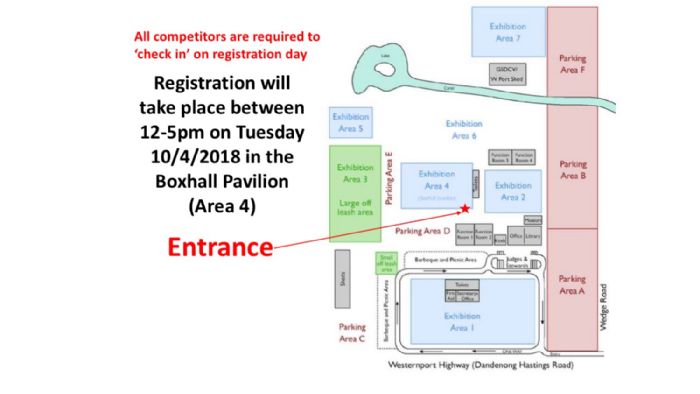 Please form an orderly line to Registration Attendant 1 within your relevant alphabet grouping (see below).
Registration Attendant 1 will:
Check your height card (please have this ready)

Mark you off on the 'check in' list

Hand you an envelope containing 2 exhibitor numbers per each dog entered, 1 for on your person and 1 to be attached to your dog lead using the plastic sleeve and cable ties provided.
Registration Attendant 2 will:
Supply you with a Welcome bag, enjoy!

Require notification as to what size dog you have, this will enable them to supply you with a single dose pack of Simparica, please note this is a one sample per person offer (not per entry) in the case of multiple dogs please select only 1.
Registration 'check in' is complete, follow the exit signs and Good Luck!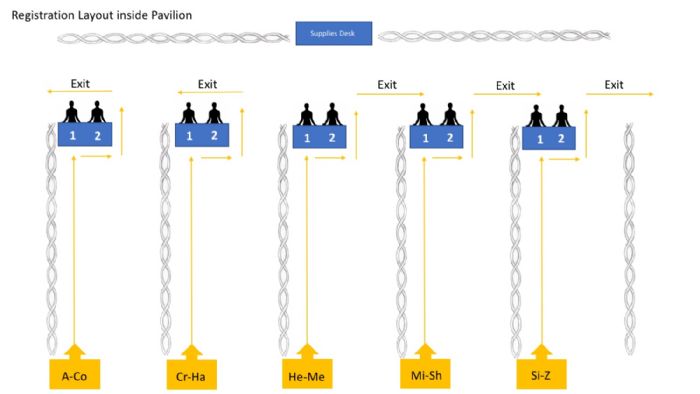 ALL COMPETITORS PLEASE NOTE
Each dog will have one number for the entire event.
You will be given one number for you, the handler, to wear and one number and plastic holder which MUST be attached to your dog's leash using either the supplied cable tie or an alternative method e.g. small carabiner.
All competitors are required to hand their correctly labelled leash to the leash steward.
HIRED MARQUEES
Please use this guide in conjunction with the gazebo areas marked on the updated map. Your marquees have also been clearly marked with your name on the grass at the entrance.

Walls for front - we have asked that these be placed hanging from the front of your marquee. These can be used to close off your area of a night time. When packing down either hang from the front securely OR leave in place as a front wall.

If you have any question of concerns, please ask for assistance at the registration desk.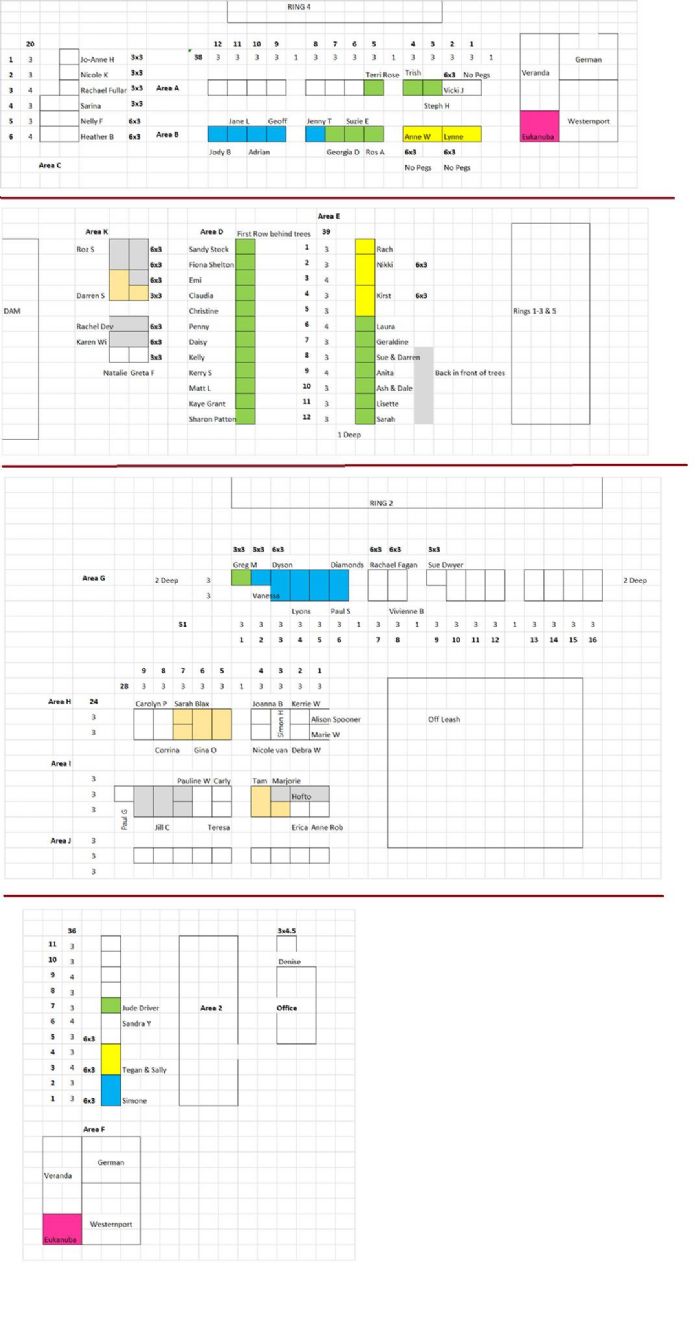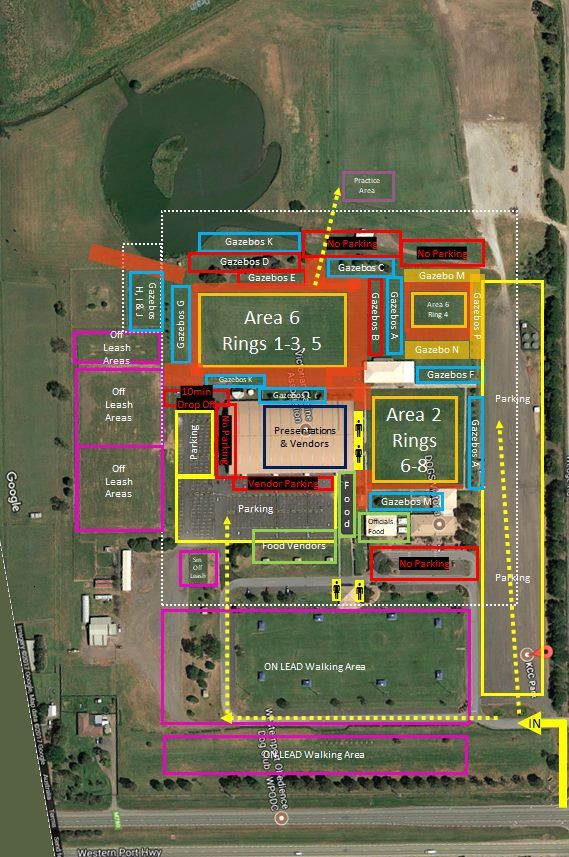 PERSONAL GAZEBO SET UP
Dogs Victoria has a policy of NO SETTING UP THE DAY BEFORE a show or event. As we have registration on the Tuesday we are allowing you to set up your gazebos from 2pm onwards – so don't early.
As we may still be setting up equipment and potentially making final arrangements around the rings there will be NO people or dogs permitted on the grassed areas except those authorised to do so. As this is an OH&S concern this will be strictly adhered to and we will have people who will be policing Areas 2 & 6 – please don't make us use our 'grumpy voices'.
The only people that will have permission to set up prior to this time are those that will be building courses, Working Party and those assisting us with Registration.
If you are unsure if you are authorised, then please speak to the people at the registration desks. Saying 'I didn't know' is not an acceptable excuse – if you don't know, then you need to ask.
Until 2PM vehicles will not be permitted to park on the gravelled areas closest to Gazebo Areas P, F and A (Area 2 and Ring 4). There is no reason for you to be here as registration is on the other side. Vulturing is not permitted you will be asked to move along.
There is plenty of room out the front for you to exercise your dogs.
RED AREAS
The sections marked in RED are clearways to allow plenty of room for dogs to warm up, have their own personal space etc. As well as general thorough-fairs between rings. As this is not the original areas that we had planned our rings to be, some areas are tight and therefore there will be no Gazebos permitted in these areas.
GAZEBO AREAS
There are spaces available for personal gazebos in the majority of Areas.
The majority of areas are SINGLE line gazebos only – due to distance from the rings etc. However, Areas K, H, I and J should be set up as doubles. Ie if you have two 3x3 gazebos you need to set up the 3m section to the front of the ring and go back 6m. This is to maximise viewing access for all to the rings.
Please use the marquees already set up as a guide to where the line is for further gazebos.
Areas K and L need to be as far back from the rings as possible – single line only.
Areas P and A – a single line of gazebos is permitted however must be behind the tree line from the rings.
When setting up - please allow a small gap between every third of fourth gazebo as this allows airflow and a small walk space if required.
ORANGE AREA (No Sunday)
The sections marked in Orange around Ring 4 are only permitted for Wed-Sat. This includes under the large veranda between Ring 4 and Ring 7. The German Shepherd Club train in this Area on Sundays and therefore Ring 4 will be packed down. You are welcome to setup in the Orange Areas however you will be required to PACK down and vacate the areas on Saturday afternoon.
DROP OFF ZONE
A 10 minute drop-off zone is the first row of car spaces near the Off Leash Area and closest to the rings. This will allow you to unload your car closest to the ring areas and then you will have to move and park your car for the day. Same for pack up. During the day – no cars will be permitted to park in this area.
OFF LEASH AREAS
Due to lack of rain there are some areas in the Off Leash areas that are cracked – therefore we recommend keeping your dogs on lead at all times so that you can monitor where they are walking. If you choose to run your dogs off lead in these areas it is at your own risk.
The off-leash areas have a time limit therefore please be considerate of other people if they are waiting.
Also keep in mind that these are within sight of the rings.
The largest off leash area has been divided by temporary steel mesh panels and star pickets – therefore it is not designed for full force dogs on either side and the panels may move.
The small exercise area closest to the front lawns is for small dogs.
PAVILLION
You are not permitted to setup camp in the Pavillion, this area has been set aside for Vendors and presentations. Vendors that are also running dogs have been given special permission to keep their dogs with them, however any dogs barking excessively will be asked to move.
Dogs are permitted in the Pavillion, so feel free to take them with you when you go shopping.
DOGS VICTORIA SMOKING POLICY
A reminder that smoking is not permitted in an area 20 metres from any ring in which an exhibition is taking place or 20 metres from any food vendor located on the showground.
DAM
The dam areas closest to rings are within the trial precinct, therefore dogs are not permitted to swim or paddle in this area.
Contact Details
Click on the following links for enquires about:
For all other enquries please use the Contact Form.