Judges
We extend a warm welcome and vote of thanks to our wonderful judges who give up their time and/or the opportunity to run their own dog/s in competition.
Thank you so much - we hope you have a sensational week!
| JUDGE | STATE |
| --- | --- |
| | NZ |
| | QLD |
| | VIC |
| | VIC |
| | VIC |
| | VIC |
| | VIC |
| | NSW |
| | QLD |
| | NZ |
| | VIC |
| | SA |
| | SA |
| | SA |
| | SA |
| | VIC |
| | VIC |
| | VIC |
| | SA |
| | VIC |
| | NSW |
| | VIC |
| | WA |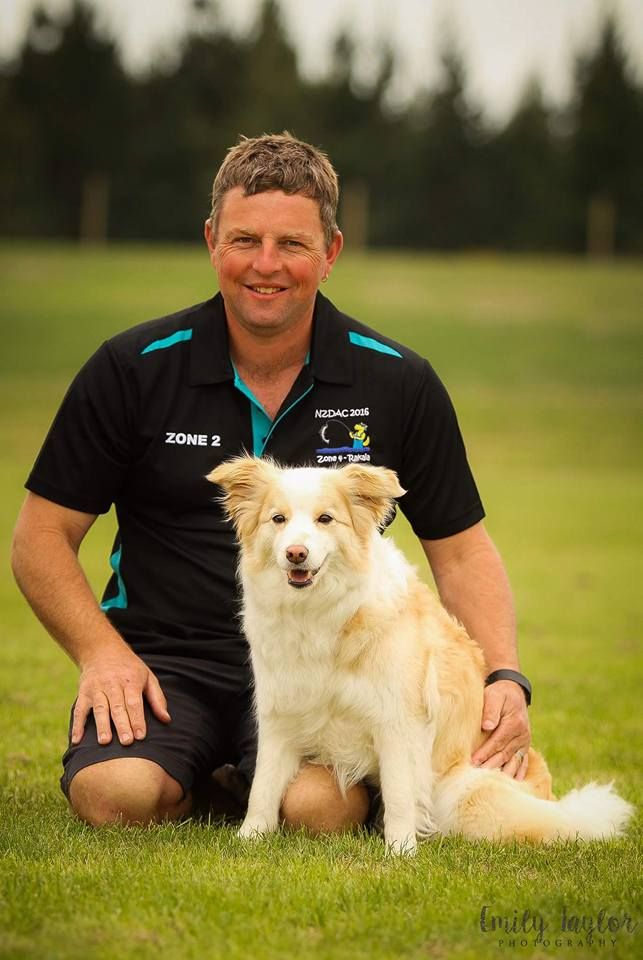 Firstly I would like to say a big thank you to the Committee for inviting me to Judge. I take it as a privilege to be asked and I am looking forward to seeing some great runs by some of the best dogs and handlers in the country at all levels.
Me personally I have been in the dog world for almost 20 years now, doing Obedience and Agility over that time. I now only dedicate my time to Agility as a Handler and Trainer, I have been Judging for over 10 years now and still enjoy setting courses that allow dogs and handlers to run while creating lines that flow, I like my courses to be challenging but still very much achievable with options how to handle any one part.
We have 9 dogs at home, all of which are Border Collies but I have owned and trained a Papillion which was called Atom. Out of the 9 dogs we have 4 that are competing currently with me and my wife Paula. We live on a block of land in Masterton, New Zealand.
I also spend a large amount of my time helping teach others with different areas of Agility which I really enjoy, I have held seminars throughout NZ and very lucky have and continue to be invited into Australia to hold Seminars.
I would like to wish everybody the very best of luck over next few days, have fun and enjoy the time with your dogs and your friends and make a lot new friends along the way!!
Thank you again for the Invite and I hope you enjoy my courses.
I first started competing in Agility in 1989 at the Armidale Dog Club, and was a member of the Jimboomba Dog Obedience Club.I competed with a Rottweiler X on the Supplementary Register with Dogs N.S.W.
I gained my Agility licence in 1995, and have successfully trialled a Rottweilers, Border Collies, a Labrador, a Great Dane, and a Kelpie. I currently have a 16 year old Border collie (with dementia), a 4 year old Border terrier and a 4 year old Kelpie.
I have judged in most states in Australia & Asia and was fortunate enough this year to attend the F.C.I. world championships in Spain.
I would describe my courses as subtle, fast open and free flowing and doable at every level, and across all heights.
In closing I would like to wish those attending the 2018 Nationals in Victoria, every success.
James Browne - VIC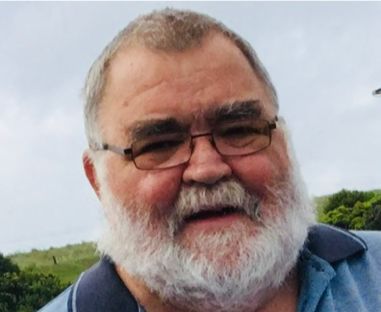 My name is James Browne and I have been an Agility Judge since 1992 and I gained my Games licence when Games events began.
I started Agility as a competitor in 1988, earning a title with my first dog, a GSD, to his Excellent title and one Masters pass.
Since taking up judging, my appointments have taken me to many locations around metropolitan Melbourne and Country areas, allowing me to partake in the hobby I enjoy and making new friends along the way.
Interstate judging appointments have taken me to locations such as Canberra, Adelaide, Mt Gambier, Hobart, Launceston, Queensland, Wagga, Albury, Coffs Harbour and Darwin.
I enjoy providing a course that is fun, challenging and flows freely for all sizes of dogs and ability, reaping rewards for the team that is fastest with the best controlled handling.
I am looking forward to judging at the 2018 Agility Nationals and wish the competitors the best of luck and I hope they all enjoy my courses.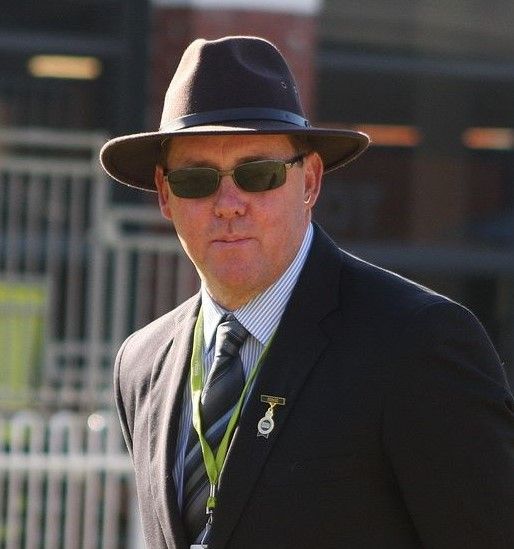 I own two border collies and unfortunately am not trialling my dogs at present.
I became an Agility judge in 2003 and 3 years later gained my Games judging licence. I have enjoyed judging appointments in multiple locations around metropolitan Melbourne which have allowed me to enjoy weekends away with my family and pursue the hobby I love. Occasional trips to regional Victoria and interstate locations such as Canberra, Mt Gambier, Hobart, Launceston, Darwin and Brisbane have been met with excitement and new expectations from both myself and competitors with some great friendships evolving. Highlights of my judging career include judging ACT Agility & Jumping Dog of the Year 2007, National Agility Trial 2008, Launceston Royal 2011, and Victorian Top Dog of the Year 2013, QLD State Agility Trial 2016 and RASV Agility trial 2016.
As a judge I aim to provide a course that is challenging yet does not discriminate against the height of the dog allowing all dogs to move freely between the obstacles, rewarding the team that is best controlled and fastest.
Annette Claughton - VIC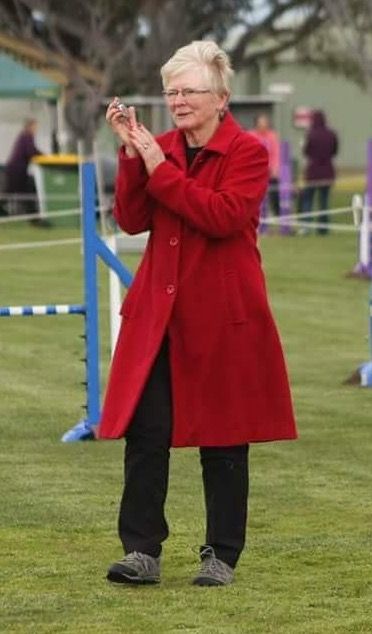 Photo: Sal Robinson
I've been an Agility judge for 20 years, judging in Victoria, New South Wales and Canberra.
I have trained and trialled four dogs in Agility to Masters level over the last 25 years. My first Agiity dog was Mia (a GSD), then Pippin (a Shetland Sheepdog, who was a finalist in Agility Dog of the Year), followed by Kellie, a Border Collie-Kelpie cross. My current trialling dog, Macey (a Border Collie-Kelpie cross), has recently obtained her Master Agility and Jumping titles.
When designing my courses, I have a preference for open running courses, rather than very technical courses, and hope my competitors find the courses suitably challenging, yet achievable and fun.
Ron and Heather Diamond - VIC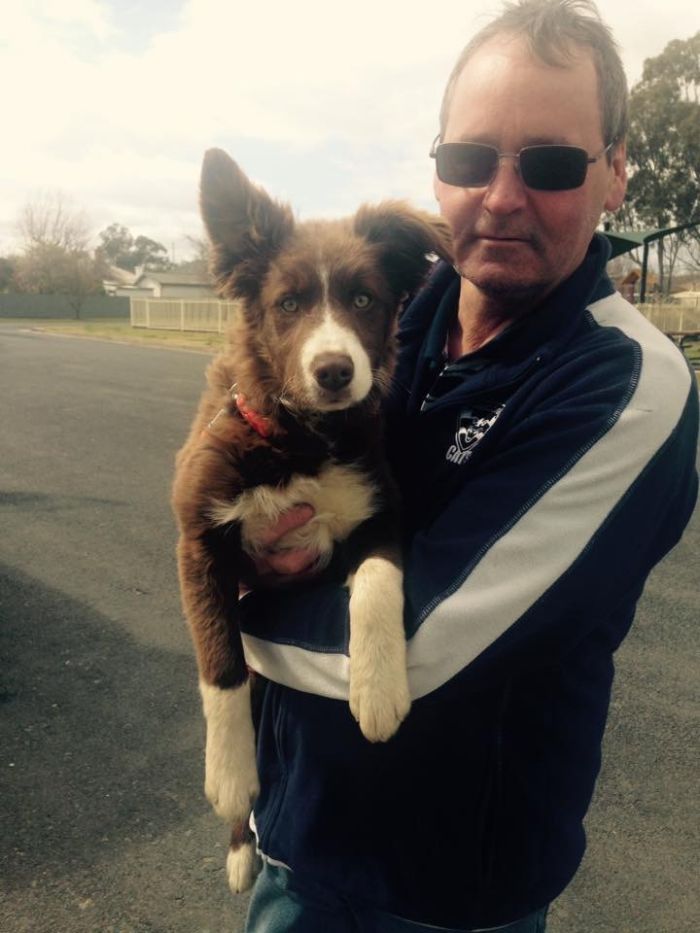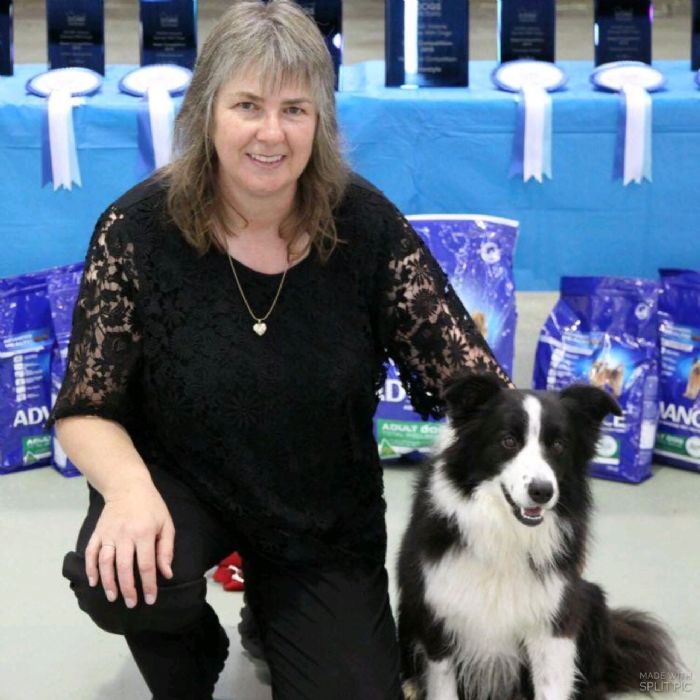 We hail from Ballarat, and have been involved in dog sports for 25 years; luckily our children Hannah and Jack also have enjoyed our passion for all dog related sports.
We dual handle all of our dog/s but currently have more handlers than dogs eligible to compete!
We have been fortunate that through our hobby and love of dog sports we have been invited to judge throughout our great country and have meet some awesome people along the way.
We are old hat!, and have been round for all the nationals, - first as competitors and later as judges. A National highlight for us was way back in 2003, Ron and our beloved Pip were the Master Jumping winning team. Pip had quite a prestigious agility journey he qualified for both Victoria's Top Dog Agility / Jumping and successfully gained Agility Top Dog 2005 and 2006. We have also have had the privilege of representing our state in the team events.
We love the atmosphere of a national, we enjoy all its elements:- the courses, catching up with like-minded people, watching handlers run their preferred style and thoroughly enjoy watching the teams nail difficult sequences.
We welcome everyone to another exciting nationals may the weather gods be favourable. "Run clean, Run as one and Savor every moment" you have worked hard to be here, we look forward to seeing you at the start line.
Vanessa Dowson - NSW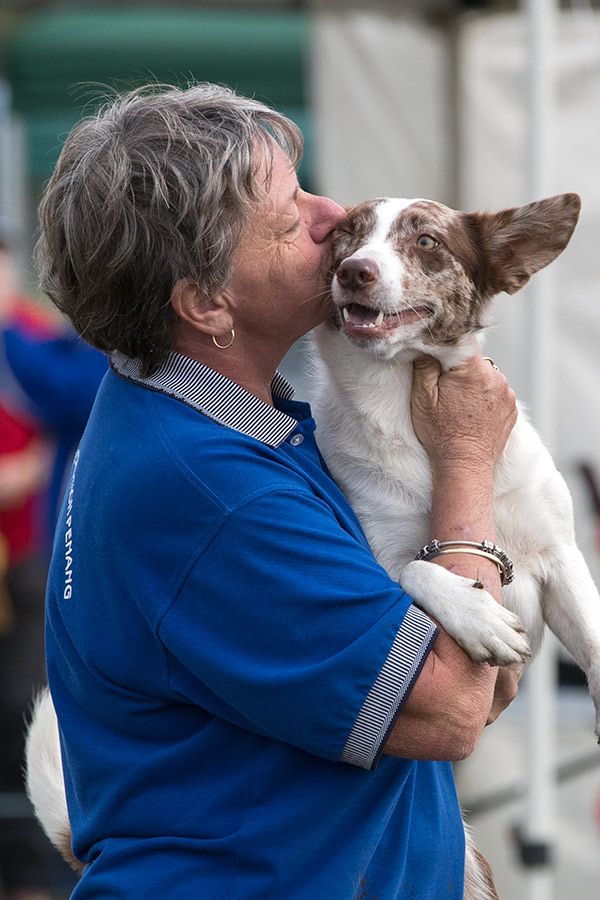 I started Agility by accident, I had never heard of the sport when my daughter as a 14 year old started training my mother's dog at a local Agility Club in 2002. I was soon the mother transporting my daughter to and from training and agility demonstrations. It wasn't long before I started helping set up the equipment and helping in the office.
In 2004 I bought my daughter a Border Collie pup and in 2006 I started spending the weekends at trials watching my daughter trial. In 2007 I caught the bug and became the owner of my first agility puppy a Border Collie X called Skooter. In 2008 much to my horror my daughter gave up agility for love and in 2009 with encouragement from friends I starting trialling Coco, and then Skooter with a lot of success. I was hooked, I loved agility, I loved watching the dogs doing agility and I enjoyed the friendships I have made along the way. Coco has since retired and Skooter is semi retired. I am currently trialling and training two German Koolie's, Smarti and Sonnet.
I train with a group of women of whom a few were judges and with their encouragement and support I become a judge. Judging has given me the opportunity to meet new people and travel to different towns or states. I aim to have flowing courses with nice lines that enables the dogs to stretch out and run as well as having the technical aspects to challenge the dog and handler. I particularly enjoy watching the different handling systems competitors use to get through my courses. I want the handler to go into the ring with confidence, give it a good crack and finish with a smile knowing they gave it their best shot on the day.
I would like to take this opportunity to wish you all good luck. I hope you have fun and that you enjoy playing with your best friend.
Suzie Eller - QLD
Way back in the1980's I was a happy owner of a GSD and we were competing in obedience in Sydney where I grew up. I later moved to the Gold Coast and joined the local dog club. It was around this time that I watched my first Agility competition and it looked amazing. Most of the dogs in that competition were Border Collies but I decided to give it a go. Bonnie found it hard to be competitive as she had to jump very large heights for her size. So in 2001 I moved to the "dark side and got my first Border Collie Flash. We attended our first Nationals in Canberra and we made 2 finals. I was Hooked.
Since then I have competed with another 4 BC's and have made the finals at each Nationals we have attended. My dogs are amazing, they have always given me 110%.
I have been an Agility instructor for many years training beginners who just wish to have fun with their dogs, as well as the experienced competitor. I get much joy from learning and watching both pupils and dogs getting "the most" out of the sport. I gained my Agility Judge's licence in 2006 and I have had the pleasure of judging the NSW Nationals and up and down the East Coast.
I would like to wish all the competitors and their dogs the best of luck in 2018 and look forward to the honor of judging at the Victorian Agility Nationals 2018. May the Agility Gods shine down one each and everyone.
Libby Ellery - NZ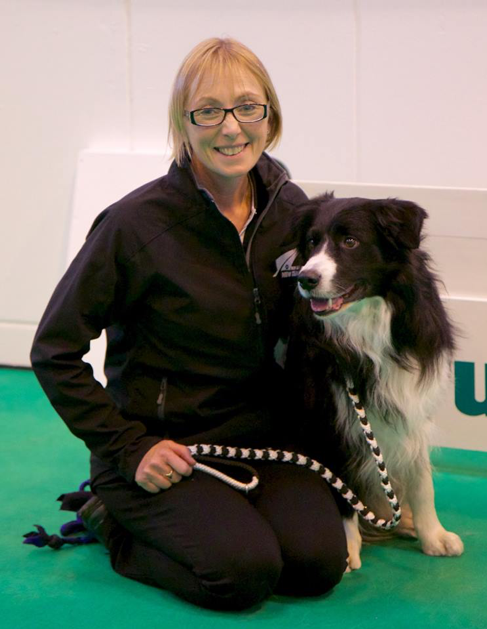 Kia ora! I'm from the little town of Feilding in the Manawatu, New Zealand. I got my first dog when I was 13 and we failed miserably at a domestic obedience class! Several years (and dogs) later I began competing in obedience and agilty and fell in love with dog sports. I've been judging agilty approximately 25 years and have had the pleasure of judging all over NZ, once in Singapore and a couple of times in Australia.
I'm very excited to again have the opportunity of judging some of Australia's best dog and handler combinations at the 2018 National dog show!
Scott Fletcher - VIC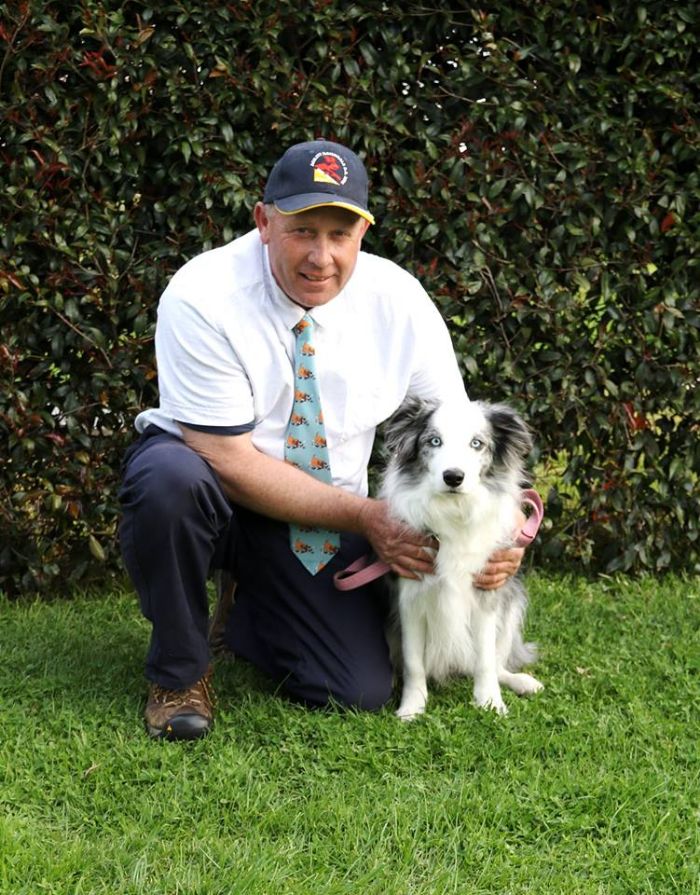 I have been in the dog world since 1994, 
starting in Obedience and then following into Agility. 
I have trialled 5 Staffordshire Bull Terriers all to Masters level. 
My current Stafford, Ollie, gained his AG CH 400 in 2013 and my Border Collie Wynta gained her AG CH 500 in 2017
. I am now training our new addition Koa, a Working Border Collie, but sadly he is too young to compete at the 2018 Nationals but he will be ready for WA Nationals in 2020. 
Due to my participation and love for agility I decided to take up judging and after 12 months of judges training I gained my license in 2016
. I have judged at many local, country and interstate trials
.
Some of my highlights of my agility career has been representing my state of Victoria in several Nationals over the years - SA, NSW and WA. 
I have also competed in Victoria's Top Dog on numerous occasions with my Staffords and my highlight was winning Top Dog Agility in 2016 with Wynta. 

I am very grateful to have the opportunity to judge at the VIC Nationals 2018. I wish everyone much success and hope you enjoy your time here in Victoria. Most of all have fun with your dogs. 
Remember we all go home with the best dog at the end of the day.
Jane Lawrence - SA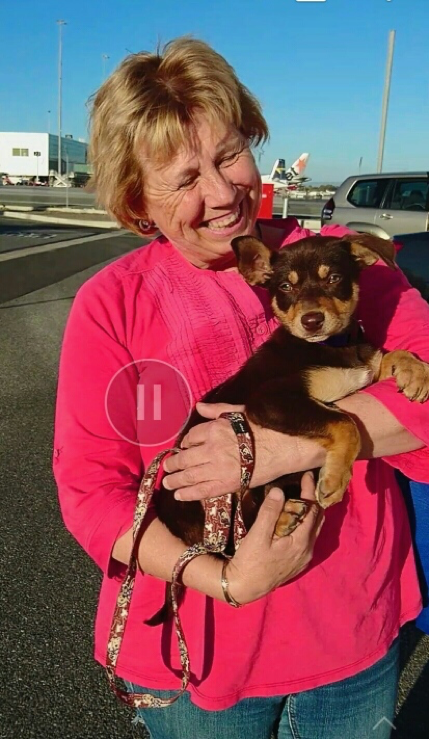 I am first and foremost an agility competitor, enthusiastic rather than skilled. I have competed with a variety of breeds from Gordon Setters, Chesapeake Bay Retrievers to Australian kelpies. I currently run an older kelpie and a manic rescue Koolie cross, with a young kelpie coming through.
I have judged for many years and I love watching dogs enjoying themselves out on the course. My ethos is that dogs don't choose to do agility, owners do, so it is our responsibility to ensure that our dogs have the best time.
I would like to thank the Victorian National Agility committee for inviting me to judge at this year's competition.
Good luck to all the competitors, run fast and clear!
Firstly thank you to the Victorian 2018 National's Agility Committee for the appointment and the time and effort that you have given and will give to enable all of us to come together and play at the sport we love.
I have been involved in agility for about 25 years and started judging in 2013. My first agility dog was a Rhodesian Ridgeback named Keisha. This was back in the day of the triple jump which was almost impossible for a dog her size, so when it came to getting my next dog I knew I had to look at a breed that was more physically suitable to this sport that now had me hooked. So now I am hooked, not only to the sport but also to my breed of choice, Tollers. I have three Tollers, India (12 and retired), Chia (8) and Tanzie (4). Both India and Chia have achieved their AGCH titles and this National will be Chia's last.
I enjoy seeing dogs being able to stretch out and move at speed and therefore set my courses to achieve this while always considering the dogs line and setting challenges that show off the skills of both handler and dog. I hope to see some fast runs, happy dogs and clear rounds. Good luck everyone.
Julie and I have first became involved in agility in the early 90's in Scotland and soon became hooked. In the UK I competed with Japanese Akitas and Standard Poodles, winning out of Starters also in 2004. Since immigrating to Australia I have competed with my Australian Shepherds and have gained several State Champion Titles with three of my dogs and Agility Champion (500) status with two of them. I gained my ANKC agility/jumping licence in 2014. I'm looking forward to my first Agility Nationals judging appointment and wish you all good luck.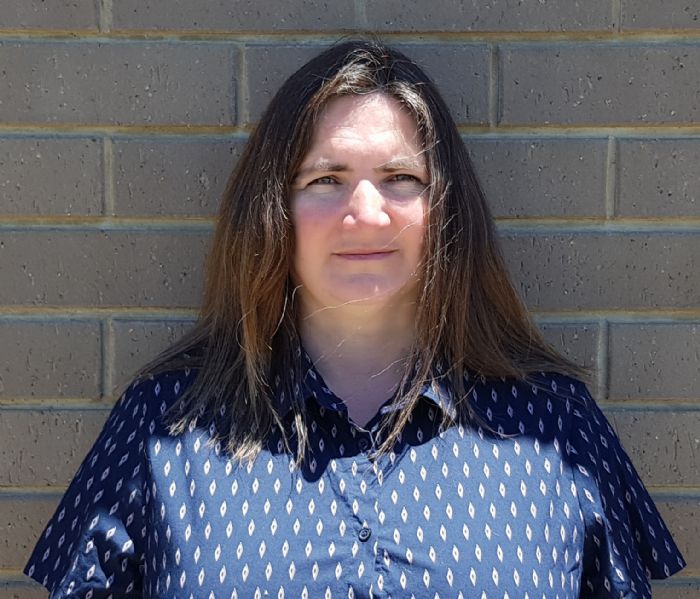 Ian and I have first became involved in agility in the early 90's in Scotland and soon became hooked. I have competed with Papillions, a Border Collie and Standard Poodles in the UK. Winning out of Starters in 2004 with my poodle Monica and completing our time in Starters in 2nd place overall in the UK together with qualifying for the ABC (Anything But a Collie) finals were amongst my achievements. Since immigrating to Australia I have dabbled in competition with my Australian Shepherd and gained my ANKC agility/jumping judges licence in 2014. I judged at the South Australian Nationals in 2016 and am looking forward to judging at the 2018 Victorian Nationals. I like to see dogs and handlers accepting and conquering my courses and wish you all the very best of luck.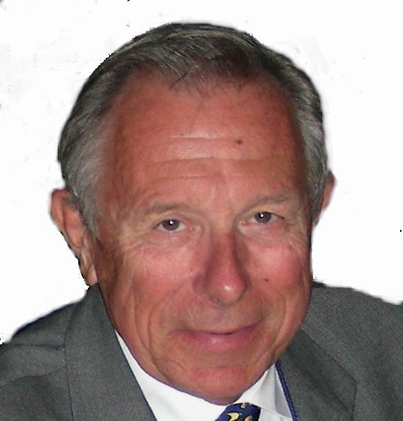 Clive started in the Dog World in 1972 with a Dalmatian at the Croydon and District Dog Obedience Club in Victoria. He is still a member of that club and is the longest active serving member at the club. Clive was made a Life member in 1984. During his time at the club he has held various positions including President and Chief Instructor.
Clive's judging career started in 1987 by becoming an Obedience Judge and was also involved in Agility. In 1990 he became an Agility judge. Since then Clive has judged Agility extensively throughout Australia and Singapore. On the administration side Clive has been Agility trial manager at many Agility trials plus some 10 years as Agility Show manager at the Royal Melbourne Show. For many years Clive has been a member of the Victorian Agility judges training and testing panel. In 1985 Clive changed breeds to the Golden Retriever and one of his Goldie's has competed in Novice Jumping, thoroughly enjoying the experience.
Clive is thrilled to be involved in the 2018 Melbourne Agility National's and wishes everyone involved the best of luck for a successful National.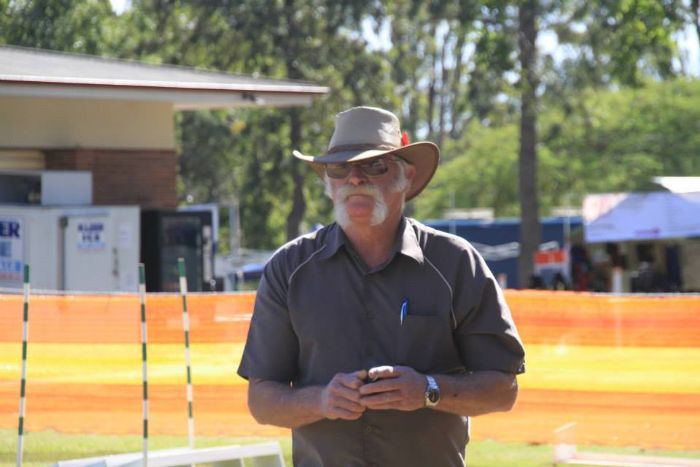 I have been involved in the dog world for over 30 years. Competing in Obedience and Agility.
I gained my Agility Judge licence in 2003.
I trained my second BC to Master lvl and have just recently retired my third BC. He gained his ADM . I am now training/trialing a young Kelpie/BC, now thats a challenge!
My judging has taken me to many places around Victoria and interstate.
Highlights have been judging the Nats in Vic in 2008,Vic Top Dog Jumping 2009,Vic Top Dog Agility in 2012.
I have judged at the Adelaide Royal and the Melbourne Royal in 2011.
Judged at the Qld State Trial in 2013 and had the pleasure in Judging at the Qld Nats in 2014. I also judged at the South Aust Nationals in 2016, i was lucky to get one of the good days weather wise.
I look forward to judging at the 2018 Nats in Victoria and i hope everyone who enters has a wonderful time.
Thankyou for the opportunity to judge.
Stephen Pearson - VIC
I have been involved in Agility since 1998 when I moved from New Zealand to Melbourne with my family and the first of my three Hungarian Vizslas. I have had a Vizsla as part of my life for a period spanning over 20 years. I now live with 2 Border Collies and a Pug.
I gained my Judges licence in 2002 and have judged extensively in Victoria and Interstate, with past appointments at Royal Shows and National events.
I have been involved in all aspects and levels of the sport from; ANKC rules reviews, State Agility Committee, part of the Organising Committee for 2 National events, Trial Secretary, steward, ring crew, instructor and competitor.
My biggest thrills in agility still come watching a student I have taught do well, judging a course that competitors find fun and challenging and running my own dogs, one in Novice and the other in Masters.
Good luck, smile at the start……….and the finish, during is up to you.
Paul Schroeder - SA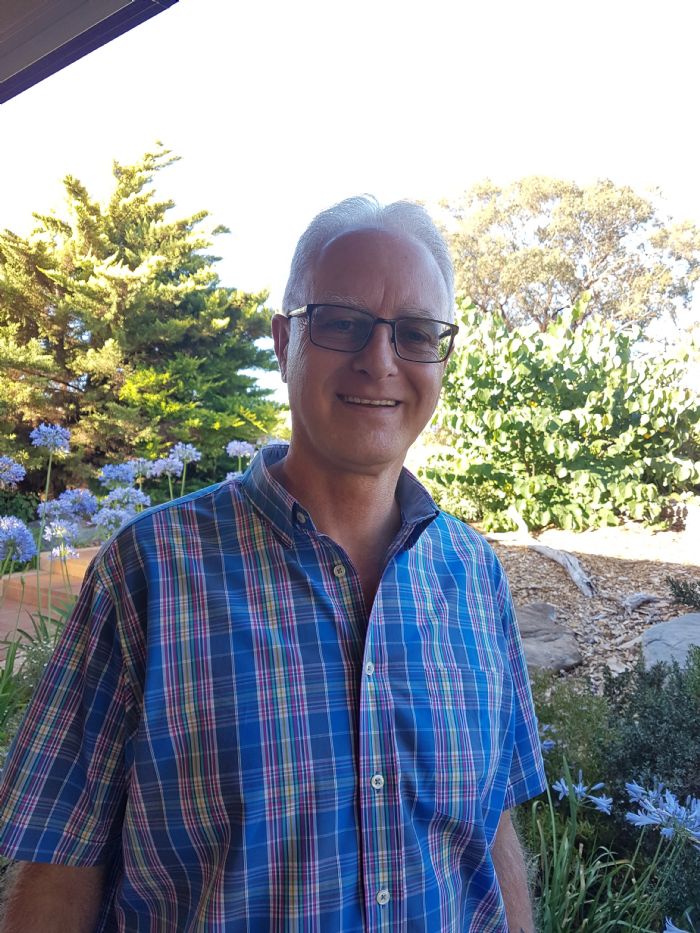 I live in South Australia with my wife Gill and our 5 Border Collies. We are both involved in training and competing with our dogs.
I commenced competing in agility in 2004 with my first BC, Jazz and she retired with an AgCh (500).
I had my first judging appointment in 2009. I like to think that the style of my courses is evolving all the time in line with the growth in handling techniques and ability.
Hi, my name is Geoff Taylor and I have been an agility judge since September 2016.
I have been involved with dogs all my life and agility for over 10 years and have run dogs from novice to masters.
Since becoming a Judge, I have judged numerous competitions in both Victoria and interstate.
I try to make my courses flowing with the emphasis on fun for dog and handler.
Hoping everybody has a fun and successful time at the Victorian Nationals – looking forward to meeting new faces and catching up with older acquaintances.
I would like to take this opportunity to thank the committee for the appointment, after attending my first Nationals in South Australia in 2016 I am looking forward to judging my first Nationals competition.
Jenny Taylor - NSW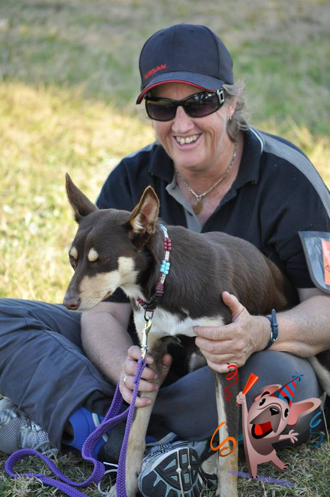 Hi my name is Jenny Taylor and I live in Kempsey on the Mid North Coast of NSW.
I joined Dogs NSW in 1998 to enter an obedience trial, later that year I entered my first agility trial and soon became addicted. I have mainly trialled working dogs that have been given to me from local farmers. Now I trial Australian Kelpies.
I became a judge back in 2008 so I could give back something to the sport I love.
I try to make my courses fast flowing with just the right amount of challenges.
I really enjoy designing courses and watching handler and dog teams run them.
I joined the dog world in 1991 following the purchase of two Border Collie littermates as companions. Dog activities followed a short time later in the form of both obedience and showing.
After gaining an open obedience title with Ricky, I ventured into agility which he absolutely loved, and before long became hooked on the sport. In 2002 I wanted to give back to the sport I love and obtained my Agility Licence. The licence was extended to include Agility Games following its introduction in 2006.
Since Ricky, I've remained actively involved both judging and competing with my Border Collies, and I am currently competing with an 11 year old in Masters and a younger girl in the lower classes.
I've had great pleasure judging and competing both in Victoria and interstate, making many friends along the way. I look forward to judging at the 2018 Agility Nationals and hope competitors have an enjoyable time on my courses.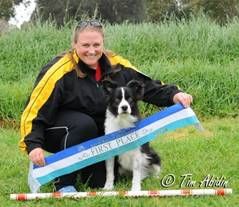 I started competing in Agility back in 1994 in Perth with a show Border Collie named Bear who was also a member of the PAL Superdogs, he was followed by his daughter Raven who started competing in 2001.

2005 was my first experience of a National when it was held in Perth, with Raven winning a number of qualifying heats and was Runner Up in the finals a number of times. I haven't missed a National since and attending this event is something I very much look forward to. Raven continued her success in Adelaide in 2007 Runner Up in the ADM final and then winning several games titles in 2008 whilst in remission from Lymphoma.

My current household has retirees 13 year old Cypher, 11 year old Spryte (both Nationals finalists and place getters) and my current trialling dogs – Savvy and Colt. All the dogs I have taken to Nationals have been talented enough to get me through to finals – and seem to excel at the Games (despite relatively minimal practice at them!). I'm excited to be running both Colt and Savvy at these Victorian Nationals in 2018.

I have run many different breeds of other dogs for other owners over the span of my 24 years in agility, Rotties, GSPs, GSDs, Corgis, Shelties, Terriers, Koolies and a number of cross-breeds amongst them. Having been an instructor and trainer for a diversity of non-working, non-500 breeds I have the utmost respect and admiration for those who train and handle these dogs in the agility arena.
Having competed for Australia for three years at the WAO – with some amazingly talented border collies and also successfully in the UK, I have had a great introduction to the European style agility and their courses, then spending time with Linda Mecklenburg and Daisy Peel also gave me an appreciation for the AKC/USDAA and UKI styles of course design. My favourite events to watch are the FCI World Champs, and the European Opens.
Often urged to begin my judges training I didn't actually take up that opportunity until the end of 2014 (constantly torn by my joy of competing) when I started judges training and became a fully qualified judge by April 2015. I quickly gained enough appointments to reach Masters judge, and also completed my games training to gain a full panel status as an ANKC Agility Judge.

I like to gain inspiration for my courses from various sources and several of my courses have been inspired by a number of my favourite European judges such as Tamas Traj, Petr Pupik, Jan Eide, Alexander Bietl and Stefanie Semkat. However I often stalk course design from all over the world (Aus, NZ, UK, Japan, Columbia etc) to gain further ideas of challenges and the flow lines they can produce. I would describe my style as very internationally multicultural! I like to use the space I have and my main goal is to ensure flowing challenges with multiple handling options and safe performance.

I feel incredibly fortunate and honoured to have been invited to judge at this event and wish every team the very best at the 2018 Victorian Nationals. May the courses be with you all!
Contact Details
Click on the following links for enquires about:
For all other enquries please use the Contact Form.